Description
Inspired by the wing design of an aircraft, the Designer Deluxe Fan is able to swing in a 3D motion to deliver superiorly quieter air to keep you cool this summer.
NZ's Quietest Fan
At Mitsubishi Electric we recognise that noise affects comfort. That is why at 12dBA* the whisper quiet Designer Deluxe Fan is not only the perfect way to keep cool during the hot summer nights, but it is also the quietest pedestal fan in New Zealand!
Superior Energy Efficiency
With a rated power consumption of just 13 watts, the Designer Deluxe Fan is the most energy efficient pedestal fan in New Zealand!
3D Smart Flow Design
The Designer Deluxe Fan features a 3D Smart Flow Design allowing it to simultaneously distribute air vertically up to 90ºC and horizontally up to 180ºC, providing superior air circulation for maximum coverage and ensures that no matter where you are in the room, you will be kept cool all summer long.
Convenient Control
The Designer Deluxe Fan not only features control buttons at the base of the fan but also features a convenient remote control allowing you to completely customise your comfort no matter where you are. With a handy control holder on the side of the fan base, you can safely store the remote without losing it.
Features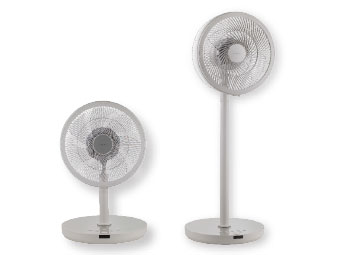 New Zealand's Quietest Pedestal Fan at 12dBA*
New Zealand's Most Energy Efficient Pedestal Fan at 13 Watts
3D Smart Flow Design
Horizontal Swing (50, 90, 180 degrees)
Vertical Swing (40, 90 degrees)
5 Speed Levels
DC Motor
Rhythm Mode
Child Lock
Night Mode
Wireless Remote Control
Adjustable to be a Pedestal or Desk Fan
*At lowest fan speed.
RATING
·
Rated Voltage: 220 – 240 V
·
Rated Frequency: 50 Hz
·
Blade Diameter: 30cm
·
Rated Current (±10 %): 0.14
·
Rated Power Consumption ( ±10 %): 13
·
Rated Speed Revolution ( ±10 %): 600
·
Air Flow Rate: 20.00
·
Noise Level (Quiet/Lo/Med/Hi/Super Hi): 12/15/19/24/30
FUNCTION
·
Fan Controller: Micom
·
Level of Control: 5
·
Remote Control: Wireless Remote Control
·
Oscillation System: Stepping Motor
·
Oscillation Type: 3D Swing
·
Rhythm: Rhythm
·
Timer: 3 Steps (ON) 2,4,6 Hr. 4 Steps (OFF) 1,2,4,6 Hr.
FEATURES
·
Attractive Slim Design: Yes
·
Smart Compact Motor: Yes
·
Durable Concealed Motor: Yes
·
Energy Efficient: Yes
·
Fire Resistant: Yes
·
Remote Control: Yes
·
5 Speed Level MICOM Control: Yes
·
On/Off Timer: Yes
·
Rhythm Mode: Yes
·
Swing Mode: Yes
·
Adjustable Height: Yes
OTHER
·
Net Weight: 6.0 kg
·
Package Size (W x L x H): 386x619x264 mm
·
Colour: Ivory White
Brochurd