Description
Implosive sound, wider soundstage, an icon
2000 Watts | 103 dB SPL
Classic Phantom features every class-leading Devialet invention bringing you high-fidelity and ultra-dense sound in a compact design that fits in your home. Enjoy physical impact unlike anything you've ever felt.
UNREASONABLE TO THE CORE.
Experience the full immensity of tracks you've already heard a thousand times over. From sub-bass to ultra-sharp treble, explore your music's full potential. With zero distortion, zero saturation, zero background noise.
All the way up to 4500 Watts and 108 Decibels. Radical emotion.
INSIDE THE REVOLUTION.
Phantom Premier embodies the vision we're constantly working towards: bringing the emotion of high-fidelity sound to as many of you as possible. By combining a series of radical patented inventions, Phantom Premier consistently shatters expectations at every step of the sound reproduction chain. With performance 10 to 1000 times superior to anything previously measured, sound will never be the same. Game changed.
The Phantom Revolution
Phantom is the absolute expression of the vision we're constantly working towards making the best sound in the world as universal as possible. By combining radical new patented inventions, Phantom consistently shatters expectations. At every step of the sound reproduction chain.
With performances 10 to 1000 times superior to anything previously measured, the sound will never be the same. Game changed.
ADH® Analog Digital Hybrid
A Devialet patented technology, ADH® or Analog Digital Hybrid delivers all the sophistication of analogue amplification together with all the power and compactness of digital amplification. The best of both worlds. For amplification of unparalleled clarity and transparency. At every turn. Revolutionary, in a word.
HBI® Heart Bass Implosion
HBI® is a one-of-a-kind system. Developed exclusively for Phantom, it takes you to the lowest frequencies ever emitted.
Engineered to perform under extreme compactness and pressure, Phantom's hermetically sealed architecture consists of two lateral woofers powering together. The sheer thrust force behind their combined movement generates ultra-dense sound with physical impact. Right down to infrasound. 14Hz. Welcome to the deep end.
SAM® Speaker Active Matching
We invented SAM® mathematical model to ensure extreme fidelity. All throughout playback. Whether you're dealing with transients or steady-state signal, the degree of information processed by SAM® is radically superior to anything previously deemed possible.
This enables Phantom to reproduce the exact rhythm and tempo of your music. All of it. With absolute precision. So that you can experience every last emotion. Just as the artist intended.
ACE Active Cospherical Engine
Our ACE technology is inherent to Phantom's revolutionary architecture. Driven by the acoustic principle of Olson's pulsating sphere, Phantom radically optimizes the way sound waves form and travel. Evenly, and in all directions. For perfectly balanced sound and zero surface diffraction. Whatever the listening angle.
EVO Platform
Our EVO Platform provides you with the latest upgrades. Receive performance and compatibility updates direct to your Phantom. Wirelessly and hassle-free. Simply connect to the Devialet Spark app and let EVO cybernetics do the rest. RIP, planned obsolescence
AMPLIFICATION PERFORMANCE
THD+N* : 0.0005% | Saturation : 0 | Background Noise 0 dB SPL at 50 cm (-15,5 dB SPL at 3m)
FREQUENCY RESPONSE (BANDWIDTH)
Bandwidth: 16Hz to 25kHz (@-6dB) Accuracy in frequency response : ± 2dB from 20Hz to 20kHz
LOUDSPEAKERS
Aluminum Tweeter driver
Aluminum Medium driver
Aluminum Bass drivers
DIGITAL TO ANALOG CONVERTER
Devialet DAC embedded in ADH2® intelligence
24bits/192kHz
THD: -112dB
PROCESSOR
ARM Cortex-A9 MPCore 800MHz dual-core processor | hard IP | FPGA in a unique System-On-Chip (SoC) Cyclone V 512MB DDR3 memory
SIDE PLATING
Body: white RAL 9016 | Polished stainless steel sides | White RAL 9016 dome drivers
DIMENSION
Width: 252 mm | Height: 255 mm | Depth : 342 mm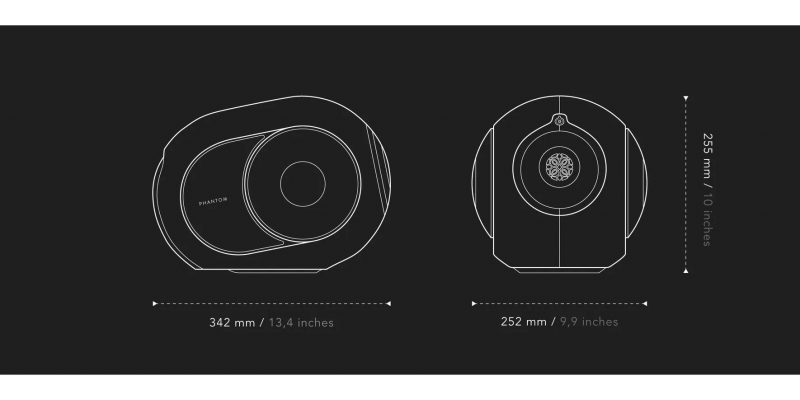 WEIGHT
11,4 kg3
SYNCHRONISATION
Phantom synchronisation via Wi-Fi, Ethernet or PLC.
CONNECTIVITY
Airplay
UPnP Renderer
Bluetooth : A2D and AVRCP profiles, aptX, AAC, SBC audio codecs
Spotify Connect
Toslink optical input (TV, CD player, Blu-Ray, video games console…)
NETWORK
Wi-Fi Dual-band (a/b/g/n 2.4 GHz & 5 GHz)
Ethernet RJ-45 10/100/1000 Mbps (Gigabit)
CPL Homeplug AV2
APP
Spark (Windows 7+, Mac OSX 10.12+, iOS 10+, Android 5+), Phantom Remote (iOS)
Manual